Fashion is ever-evolving, and with 36% of Gen Z purchasing new clothing at least monthly, it's evident that wardrobes are regularly updated. But even with a plethora of clothing options, an outfit often feels incomplete without the right accessories. Accessories are a powerful tool in the fashion world that can elevate an outfit from basic to outstanding.
While it's enticing to keep refreshing your wardrobe with new apparel, sometimes the real game-changer lies not in the clothing but in the accessories you pair with it. Diving deeper into the world of accessories, let's explore how these small yet impactful elements can redefine your fashion statement and truly complete your look.
Understanding the Power of Minimalism
In the world of accessories, there's a saying that less is often more. It's easy to assume that piling on multiple accessories will make an outfit pop. However, sometimes the real magic lies in the subtlety.
Take pearls, for instance. The understated beauty of pearls can enhance an ensemble, making it look both timeless and chic. Choosing a classic piece, such as a fine pearl necklace, can add sophistication and elegance to an outfit without overwhelming it. The key is to choose impactful accessories that complement the outfit rather than dominate it. So, the next time you're looking to accessorize, consider the impact of a single, well-chosen piece. It might be all you need.
The Basics: Must-Have Accessories for Every Wardrobe
Every fashion enthusiast knows the value of essential accessories that can seamlessly fit into any outfit. Classic pieces, like watches, are not only functional but can also act as a style statement. A sleek watch can add a touch of class to a casual outfit and sophistication to formal wear.
Similarly, belts aren't just for holding up your pants. A carefully chosen belt can break the monotony of a dress or add structure to a flowy silhouette. Then there are simple necklaces, which can effortlessly transition an outfit from day to night. By investing in these versatile pieces, you ensure that you have something for every occasion and outfit.
Match Accessories to Occasion
Accessorizing isn't just about adding random pieces to an outfit; it's about enhancing the outfit to suit the occasion. For a casual day out, a pair of funky earrings or a colorful bracelet might be the perfect choice. On the other hand, for business meetings, you might want to opt for subtle and professional accessories like a delicate chain or stud earrings.
Special occasions, like weddings, provide an opportunity to bring out your statement pieces, whether it's a dazzling necklace or an ornate clutch. The key is to think about where you're headed and choose accessories that align with the mood and requirements of the occasion.
Color Coordination and Contrasting
One of the joys of accessorizing is playing with colors. If your outfit leans toward neutral shades, accessories offer a chance to introduce a pop of color. A red handbag or a bright blue scarf can make a beige or white outfit come alive. Conversely, if you're wearing something colorful, consider neutral accessories to balance things out.
Another interesting aspect to explore is the world of contrasting colors. Matching colors from opposite sides of the color wheel can give a standout look. Imagine purple earrings with a yellow dress or a green bracelet with a pink top. Play around with mix-and-match to see what you love best.
Mix It up With Textures and Layers
Colors are great, but diving into textures and layers adds depth to your style. Think leather for some edge, metals for a sleek vibe, and beads for a playful twist. Mixing these can create a look that's both current and distinct. For a twist, try layering necklaces or stacking varied bracelets. The trick, however, is to blend textures and layers to enhance, not overshadow, each other.
Picking Accessories That Complement Your Body and Skin Tone
Accessories aren't one-size-fits-all. What looks great on one might not on another, and body shape and skin color play a part. For instance, longer necklaces can elongate shorter torsos. Some colors stand out on lighter skin, while others glow on darker skin. When you know your body and skin tone, the right accessory can elevate your whole outfit. So, by tuning into these nuances, your accessories will spotlight your best features.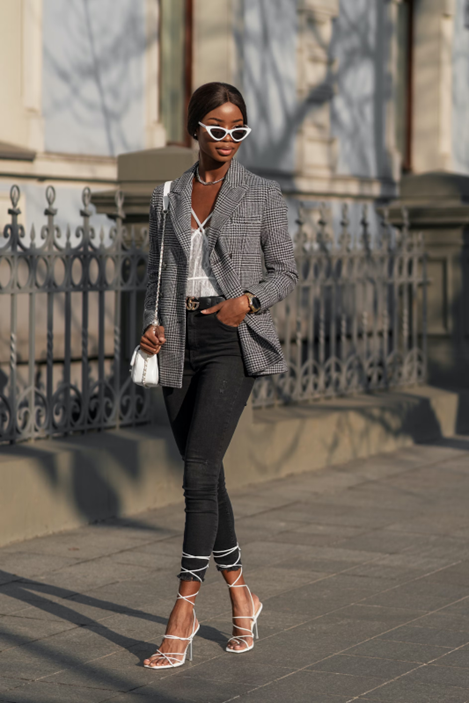 Conclusion
Accessorizing is more than just adding pieces; it's about enhancing your outfit. With countless options available, the challenge is finding what suits you and the moment. Next time your clothing combo feels lacking, delve into accessories. Try different combinations and discover what speaks to you. Accessories can refresh worn outfits, amplify your style, and make you stand out. They are the final touch in your fashion journey, helping to showcase your distinct personality. Dive in, have fun, and let your choices reflect who you truly are.