Spring is coming, which means plenty of April showers before the May flowers. While you know to avoid absorbent shoes that will soak your feet, you may wonder what else to wear in the rain other than a raincoat and rain boots. That's why we have tips to look fabulous while you're carrying your umbrella and wearing your rain boots. While no one wants to get caught in a storm, with any of these ten fabulous rainy day outfit ideas, you're sure to find the silver lining even on the grayest of cloudy days.
Longline Coat and Ankle Booties — Even with a downpour, you'll look put together when you put on a longline coat and ankle booties. Wear these with your favorite pair of denim and, if you're interested in matching, swap a tee for a denim shirt instead for a denim-on-denim look. Polish off your outfit with a plaid baseball cap.
Trench Coat and Rain Boots — This practical look is a rainy day classic. A pair of short black rain boots can pass as regular booties if it's just a passing shower. A trench coat can elevate any ensemble. Try wearing a white button-down, tailored black trousers, and a designer belt with your trench coat and rain boots.
Leather Coat and Knee-High Boots — According to Glamour, if you want to channel your inner Jennifer Lopez with this look, throw your hair up in a top bun and add on hoop earrings to complete your rainy-day ensemble. The good news is that you don't have to be Jenny from the Block to rock a leather coat and knee-high boots outfit. As an alternative to a leather coat, wear a black vinyl raincoat to get a sleek rainy day look.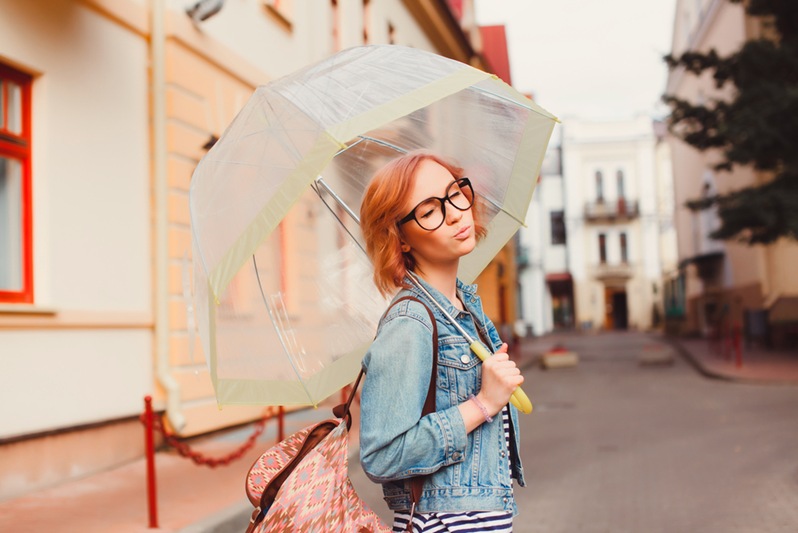 4. Layer It Up — Switch up your look on a rainy day and try out fun new ways to layer your outfit. Not only is layering a fun way to experiment with different looks, but you'll also stay warm when the rainy weather doesn't want to be your friend. You can wear a thin hoodie or turtleneck underneath a maxi dress with a bright pair of sneakers to brighten up any cloudy day. Accessorize with a statement bag and a pearl necklace.
5. Combat Boots and Shorts — When you think about wearing shorts, we so often default to wearing flats or sneakers with our shorts. On a rainy day, you don't want to get your feet wet, so swap out those comfy shoes for combat boots instead. Your outfit will have a little more edge to it. To bring this rainy day look together, accessorize with a bucket hat and shoulder bag.
6. Add Vibrant Colors — Just because it's gloomy outside doesn't mean you have to be. Try eye-catching color combinations like a mustard yellow puffer jacket with a pink long-sleeved shirt and orange pants. To balance out this bright look, you can wear neutral-toned shoes and accessories.
7. Sweatshirt, Joggers, and Sneakers — Get ready to frolic in the rain when you wear a sweatshirt, joggers, and sneakers. You can match the weather outside by wearing matching gray sweats. If joggers feel a little too casual, swap joggers for trendy jeans instead for a more business-casual look. To add more structure to this outfit, add a mini handbag in a bright color. Alternatively, wear a matching jogger and sweatshirt set and add structure with a blazer and ankle booties.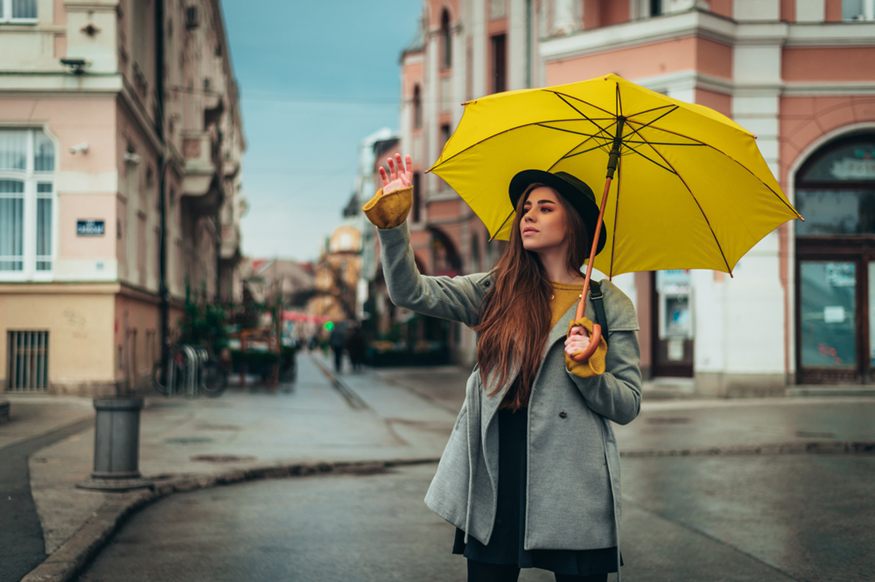 8. Tie-Dye Set — Add a colorful splash to your look with a matching tie-dye set. You can wear a tie-dye hoodie and tie-dye pants and accessorize with a white umbrella and gold jewelry. Layer up with a neutral-toned puffer jacket to balance out your look. Put your hair up in a bun and let your cares blow away with the wind.
9. Denim Jacket and Leggings — There's something to be said about a quintessential denim jacket. The tried and true combo of a structured denim jacket and stretchy leggings is one we love to wear even when it's not raining. You can wear graphic tees or cute sweaters underneath your denim jacket for extra warmth.
10. Midi Dress and Loafers — Here's an easy look to put together. Grab a black midi dress and put on a pair of loafers. Amp up your outfit with thoughtful accessories like a patterned scarf or layer necklaces together. If it's chilly out, wear tights underneath for extra coverage. To take this look to the next level, you can wear a maxi dress and pair it with a longline coat.
They say when it rains, it pours. While rainy days may get anyone feeling gloomy, you'll have a smile on your face when you're wearing any of these cute women's clothing outfits in the rain. The dreary weather is simply part of the season, but, with your rain boots and umbrella, your day is looking brighter than ever.