Gold rings have been a timeless symbol of elegance and beauty, cherished by people of all ages. Whether you prefer delicate and subtle or bold and glamorous, gold rings allow us to express our unique personalities and make a lasting impression. If you're a young trendsetter or a wise fashion aesthete, there's a gold ring design out there that perfectly suits your style.
When you're looking for an extensive range of gold ring design, join Mia by Tanishq, where you can find a vast collection of gold rings designs, to suit every taste and occasion. Also, you can customize your own gold ring design. So, go ahead and explore the world of gold ring designs to find the perfect piece that resonates with your style and captures the essence of who you are.
Mamma Mia 14 Kt Yellow Gold Beautiful Bond Ring
This 14Kt Yellow Gold ring with a touch of simplicity can be truly captivating for the young and vibrant. Delicate bands adorned with minimalistic designs, will add a subtle charm to any ensemble. This gold ring design is perfect for daily wear, offering a subtle hint of elegance without overpowering the youthful energy.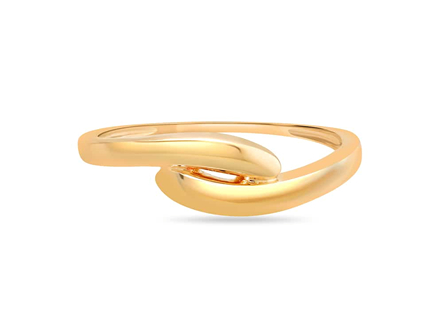 18kt Yellow Gold Seashell Finger Ring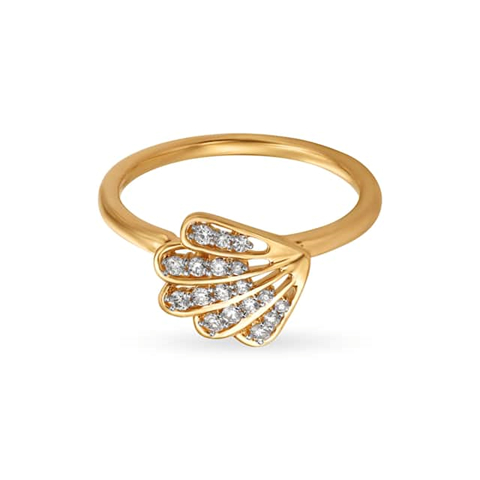 Gold rings take on a refined and sophisticated allure as we transition into adulthood. This delicate 18Kt ring is made in gold and cantered with a seashell design. It is encrusted with diamonds that add to its sparkle.  These rings are perfect for marking significant milestones or special occasions, symbolizing the lasting bonds and commitments we make in our adult lives.
Mia Everyday Essentials by Tanishq 14kt Yellow Gold Finger Ring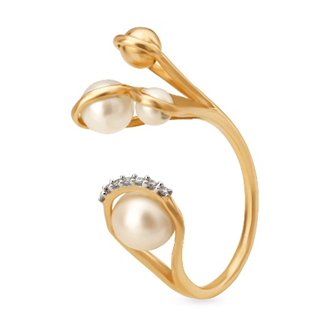 This 14Kt Gold ring design amalgamated with Pearl is a true masterpiece, radiating elegance and grace. The smooth and glowing surface of the pearl, shimmering with a soft radiance, creates a captivating allure that is unmatched by any other gemstones. Historically, Pearls have been treasured as symbols of purity, wisdom, and timeless beauty.  Wearing a pearl ring evokes a sense of sophistication and refinement. It complements any ensemble, be it a formal evening gown or a casual outfit, adding a touch of effortless elegance.
14 Kt Yellow Gold Elegant Diamond Ring

Gold rings hold a special significance in marking significant milestones in our lives. From engagements and weddings to anniversaries and achievements, these rings become cherished heirlooms that symbolize enduring love and success. Intricate designs featuring diamonds capture the essence of these precious moments and serve as a testament to the lasting memories they represent.
This 14Kt Gold ring design is for the modern woman who cherishes love and success passionately. This diamond finger ring, expertly crafted in yellow gold, is the perfect accessory to complement your work wear!
Floral-Inspired 14kt Rose Gold Ring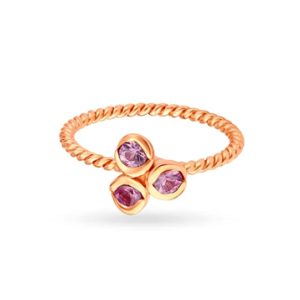 Eye-catching designs featuring colorful gemstones, playful shapes, or symbolic motifs allow them to showcase their individuality. One of the beautiful floral inspired gold ring designs, has three roses nestled together, with two placed in a way that they envelop the center rose, making it look like one big rose with two swirls caressing it on each side. Indeed, it is an example of exquisite craftsmanship. This statement ring is perfect for evening events or when you want to feel like a superstar.
Final Thoughts
Gold rings have an undeniable allure that transcends age and time. From the delicate charms of youth to the timeless beauty embraced by adults, these gold ring designs continue to captivate us with their elegance and sophistication. So, regardless of age, let us celebrate the timeless elegance of gold rings and indulge in the luxury they bring to our lives.