]How to make Rakhi Rakhi at home easy and beautiful: Rakhi means the bond between a brother and a sister which is unique and cannot  describe. Also, The relationship between siblings is extraordinary and appreciated. Though, when it comes to India, the relationship becomes even more important as a festival called "Raksha Bandhan"  dedicates to sibling love.
Also, Rakhi is a unique Hindu festival celebrated in India and nations like Nepal to symbolize the love between brother and sister. But, The festival celebrates on the full moon day according to the Hindu lunar-solar calendar in the month of Shravana, which usually falls in August on the Gregorian calendar.
Also Read: avocado oil
Importance of Raksha Bandhan
Hinduism – The Hindu festival is mainly celebrates by the Hindus in India's northern and western parts and countries like Nepal, Pakistan, and Mauritius.
Jainism – The occasion is also revered by the Jain community, where Jain priests present ceremonial threads to believers.
Sikhism – The Sikhs celebrate this festival dedicated to brother-sister love as "Rakhardi" or Rakhi.
How to make Rakhi at Home easy and Beautiful steps to make diy Rakhi at home?
[Step 1- Take a cotton swab and paint your favourite colour on both sides.]
[Step 2- Repeat the procedure with 10-12 buds. The number of buds may increase or decrease depending on the size of your Rakhi.]
[Step 3- Now cut the earplug's middle part, leaving both sides of the painted earplug.]
[Step 4- Make a cut on a small circle from the piece of cardboard and put glue on it.]
[Step 5 – Start glueing your buds tightly together to form a shape of a flower.]
[Step 6- You can repeat the process 2-3 times for the inner layers of the flower with different bud colours.]
[Step 7- You can use gold or silver beaded chains to encase your Rakhi for the finishing touch.]
[Step 8- Attach yarn to the bottom, and your beautiful Rakhi is ready.]
Materials required: paint, Cotton buds, cardboard piece, glue, scissors and decorative ball chain.
These are the easy steps of making diy rakhi.
How to make Rakhi at Home easy and Beautiful Silk thread?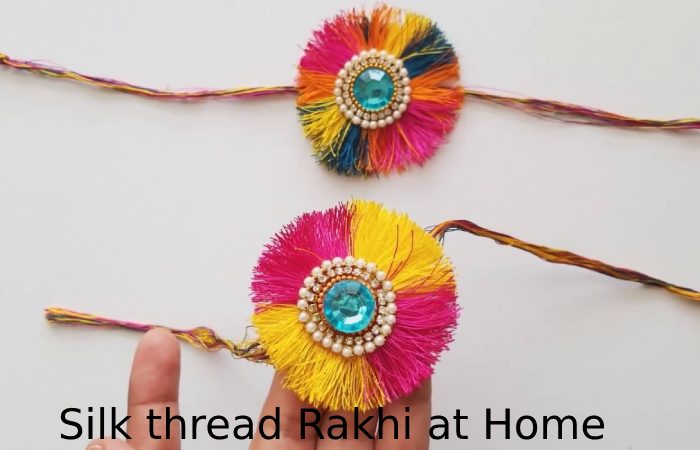 [Step 1- Take a piece of silk thread of your choice and a small rectangular piece of cardboard.]
[Step 2- Now, start winding this silk thread onto the piece of cardboard.]
[Step 3- Make enough rounds around the cardboard. You may need to roll it about 150-200 times.]
[Step 4- Now, take out the wrapped thread and use the remaining yarn to tie it from the middle.]
Materials required: Silk thread, scissors, rectangular cardboard pieces,  beads, glue, and decorative ball chains.
Raksha Bandhan 2022 date in India
Also, Raksha Bandhan 2022  falls on August 11 (Thursday). This day  celebrates in the Shravan month on Purnima day.
Raksha Bandhan ritual shall not  perform during Bhadra as it is vicious, and no auspicious work shall be done.
Rakhi thali decorated
Also, To start decorating you need to have all the material that will fit on the plate. But first, you have to choose the Thali. You can choose steel, silver, brass or any other available metal.
The main items for Thali decoration for Rakhsha Bandhan are:
role
Chaval
dia
Sweet
water
Incense sticks and stand
Rachi
Narial
Also, sandalwood paste
The Message of Rakhi
In conclusion, Raksha Bandhan signifies the ultimate bond of love, respect and caring. The Rakhi Festival gives a message that has socio-spiritual meaning, emphasizing the need to cultivate positive qualities, purity of thought, word and deed.
Also Read: glycerin oil
Realted search terms of how to make rakhi at home easy and beautiful
paper rakhi
hand made rakhi ideas
[creative handmade rakhi]
[rakhi simple design]
[rakhi making craft]
[handmade rakhi images]
[easy rakhi drawing]
[beautiful rakhi]
[rakhi material]
[how to make handmade rakhi designs]
[how to make rakhi for school competition]
[rakhi decoration]
[handmade rakhi ideas]
[hand made rakhi images]
[handmade rakhi designs]
flower rakhi image]
[silk thread rakhi designs]
[rakhi making ideas for school competition]
[rakhi designs homemade]
[handmade rakhi making competition]
[images of hand made rakhi]
[peacock rakhi making ideas]
[homemade rakhi]