When it comes to planning your wedding, choosing your bridal wear is one of the best parts of it all. If you are like most brides, you have probably been dreaming about what your wedding dress would look like ever since you were little and now the time has finally come to turn it into a reality. As a bride, you are going to be the star of your wedding, so it seems only right that you put together the perfect look. And carry yellow rose bushes.
However, in addition to looking for the ideal wedding dress, you should also think about the accessories you need to complete your bridal look. There are numerous fashionable decorative elements you can add to spruce up your wedding outfit while showcasing your personality and style.
To help you along, we have compiled a list of five must-have accessories you need to look your best on your special day.
Statement jewelry
The rule of thumb in fashion is that no look can be complete without a stunning piece of jewelry. This also applies to bridal looks where jewelry is often regarded as the most important fashionable ornament that can help put together the perfect wedding outfit.
For instance, many brides often choose pearls as their main jewelry. This gemstone's timeless and lustrous appearance manages to steal the show, immediately taking your wedding ensemble to the next level.
You can choose from a variety of pearl jewelry pieces, with classy white pearl necklaces being the most sought-after choice among brides. You can pair your strand with a matching pearl bracelet or pearl stud earrings to create a more elegant bridal look.
A beautiful veil
In addition to your jewelry, another must-have accessory you need to put together the perfect wedding look is the veil. The purpose of this item is to complement your dress and make you look more bridal. You can find it in many styles, lengths, and materials, all of which can add that touch of flair and elegance you need to complete your outfit.
While the veil itself can be stunning, you can also consider embellishing it with a beautiful headpiece to top off your bridal look. You can go for the typical wedding tiara or an embellished comb if you are looking for something minimalist and subtle.
A bolero or topper
If you are having your wedding in the fall or winter, then you should definitely consider accessorizing your bridal look with a bolero or a topper.
For instance, the boleros are detachable sleeves that go over your wedding dress and fasten in the front or back. They are typically made from lace and come in many styles that can suit various wedding dress types. They can range from caps to long sleeves and can be found in different neckline shapes.
On the other hand, the toppers go over the head and fall freely under the breasts or waist. They can also be made from lace, helping you create the perfect elegant bridal look.
A stunning purse
Since you will have your hands full wearing the bouquet for most of your ceremony, it will be great to have something where you can carry all of your essentials. In other words, you will need a stunning purse or a clutch that will blend perfectly with your outfit, while also adding a touch of flair.
When it comes to choosing your wedding purse, you have plenty of options to choose from. Most brides often opt for a simple white or cream clutch, but you can also go for something more embellishing such as a sparkling purse or the Callie bag with pearl embroidery.
A garter
A wedding accessory that dates back to the Middle Age is the garter. Whether you decide to toss it at your reception or show it off to your significant other on your wedding night, this intimate bridal lingerie piece is a must-have to complete your bridal look. You can find it in many styles, made from different materials, usually from satin or lace, and embellished with crystals or pearls.
If you feel uncomfortable wearing it on your thigh, you can wear it as a hand accessory on your wrist.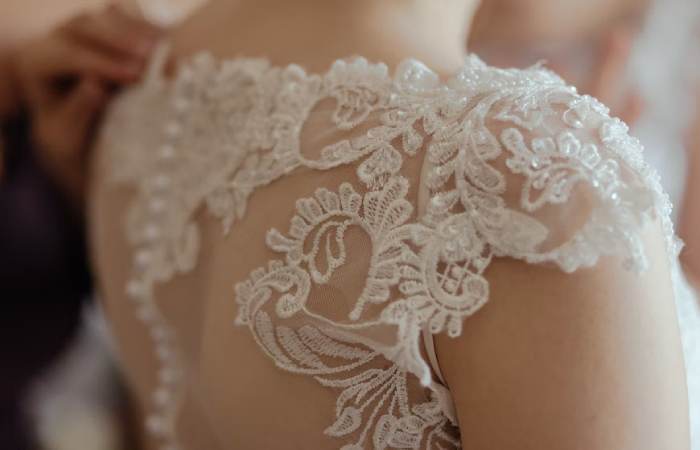 Final thoughts
Putting on the perfect bridal look can be exciting, but also very overwhelming. In addition to choosing the perfect wedding dress, you also need to think about the accessories you need to complete your look.
From picking the right jewelry pieces to selecting the ideal wedding purse, make sure you use our post as a reference to learn about the must-have accessories for putting together the perfect wedding outfit.