Traditions are still cherished in every corner of the world. This is one of the main details that people exchange engagement rings when starting a new chapter of life. Engagement rings are all traditional. Their demand always remains high. But due to modern culture, people have started to prefer diamond engagement rings over regular, gold engagement rings.
When buying engagement rings, diamond engagement rings are preferred for their amazing and expensive look. But with so many resources available these days, it is common for diamond engagement ring buyers to get lost in a sea of conflicting information about diamond quality and ring prices in general. As of this, many buyers end up believing in some diamond engagement ring misconceptions that further prevent them from picking the best ring for their partner. So, to make the buying process easier, we detail the six most common misconceptions about diamond engagement rings that you must always ignore.
The Ring Must Be a Surprise
One of the most common misconceptions about diamond engagement rings is that the ring must always be a surprise. However, buying rings together over buying individually just to keep the surprise, helps to make the buying process smooth and quick. Many people waste their high time making different calculations before and when buying diamond engagement rings just because they prefer buying individually and keeping the ring a surprise.
Today, more couples than ever before are buying diamond engagement rings together. Where the individual purchase of the diamond engagement ring makes it essential for you to pay attention to your partner's choice, ring size, preference, etc. buying the rings together helps you save time and energy. It not only just helps you pick the best engagement ring but also helps you get the surety that your partner will love to wear the ring.
The Ring Cost Should Be Around Three Months' Wages
Many male buyers have a misconception about diamond engagement rings that their partner will love the diamond engagement ring only if its cost will be around or more than their three months' wages. But diamond engagement rings are not subject to any strict guidelines. Instead of picking an expensive ring, what counts most is to pick the one that is comfortable, beautiful, and affordable. Making an informed purchase decision is also one of the best ways to maximize your return on investment.
Bigger Diamonds Mean Expensive and More Beautiful Engagement Rings
Diamonds are known for their beauty and high cost. Many people prefer diamonds for their engagement rings just to give them an expensive look. They choose bigger diamonds over small ones with the misconception that adding bigger diamonds to the ring or choosing the one with a bigger diamond will help them pick the one that not only just looks beautiful but is also expensive.
But the fact is just because a diamond is big, it doesn't mean it will sparkle, shine, and will look more beautiful than others. Where large diamonds look matte, small diamonds are known for their mesmerizing sparkle. It is not the carat weight of the diamond but the diamond cut that determines how a diamond will perform in the light.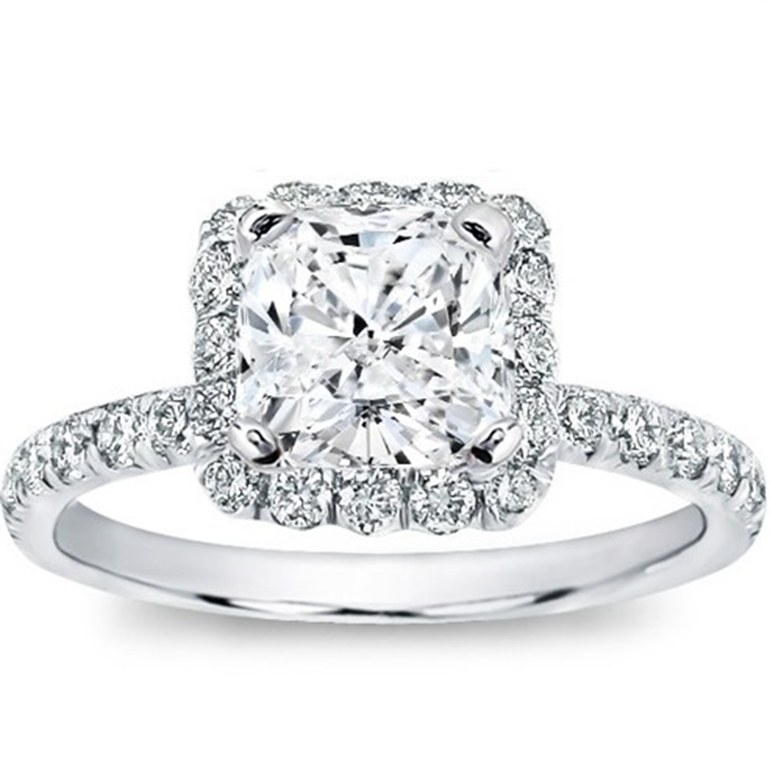 Colored Diamonds Are Not For Engagement Rings
Many diamond engagement ring buyers have a misconception that colored diamonds are not for engagement rings. As of this, they prefer ignoring gemstones/colored diamonds for engagement rings. But precious gemstones usually come in different gorgeous colors (rainbow colors). as compared to regular diamonds, engagement rings with colored diamonds or gemstones look more beautiful and royal. They help you make your diamond engagement ring look more expensive.
Diamonds Are Immortal.
Diamonds are known for their attractive look and beautiful shine. But some people also have a misconception about them that they are indestructible. No doubt, diamonds are one of the solidest natural materials on earth, but this doesn't make the indestructible. Just like other stones, they also have chances of breaking and chipping. The hardness of the gemstones only defines the resistance of the stone to scratches, not breakage. This makes it essential for the buyers to ensure that the diamonds they are going to choose for their engagement rings are not too fragile as well as will need less care and maintenance.
Diamond Engagement Rings Customization Cost Expensive
People around the world have started buying custom diamond rings for a variety of reasons. But on the other side, many lives with the misconception that choosing customization will cost them high. However, when you design your own ring, you have a good opportunity to pick an affordable ring. Rings customization makes it easy for you to adjust the overall cost of the engagement ring on the basis of diamond size, diamond clarity, ring metal, diamond style, etc.
It's All About The 4 c's
No doubt, the 4 C's of the diamond plays a major role in defining the cost, style, and various other things, but it's all about the 4C's is just a misconception.
When buying a diamond engagement ring, it is essential to consider more than just the diamond 4 C's. Other things such as alternative options, affordable diamonds, ring size, and style, ring metal, as well as the jeweler you choose for the ring purchase also matter a lot.
Final Thoughts
Diamond engagement rings are usually loved by people of different ages. Considering the choice, ring size, and preference of your partner during the diamond engagement ring purchase help you buy a beautiful yet affordable engagement ring for your partner. Along with this, ring customization also helps you save time and prevent the risk of picking an over-the-budget engagement ring.