The Disney Villains – characters we love to hate.  They're vain and jealous and cunning yet wonderfully wicked.  Most of the time, they choose not to do the right thing but finding goodness in their villainy is not impossible.  Aside from the fact that Disney villains tend to have a great style, their confidence, determination, and goal-oriented attitude can be seen as admirable if applied to a good cause.
The result is a selection of fascinating jewelry pieces exuding the attitude of the mean and misunderstood all while
Just take a look at these five fan-favorite Disney Villains rings and see bewitching pieces you can wear for costume parties like Halloween and for when you want to give your everyday wear a wicked twist.
Evil Queen Dagger Heart Ring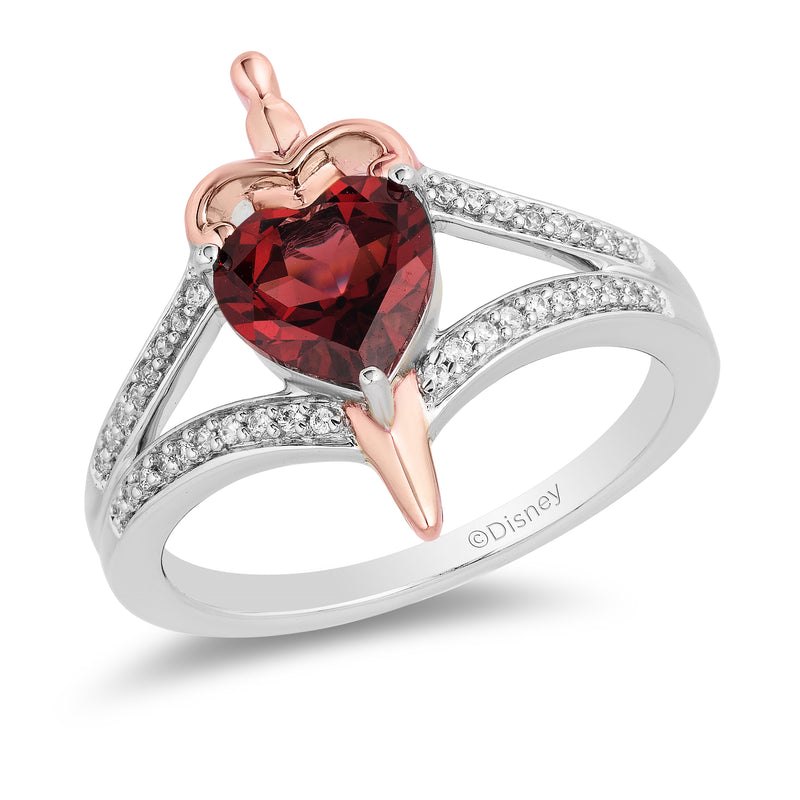 Punctuate an alternative style with the brilliance of this Evil Queen-inspired ring.  Wear this diamond-adorned piece also to remind yourself to harness your determination and turn your fears to motivation.
This sterling silver ring with a rose gold dagger piercing a faceted heart-shaped red garnet gemstone speaks of the Evil Queen's firm resolve and her grasp of the fact that doing the work herself means she has control over what happens.  Very much like how we must approach life, right?
Maleficent Black Rhodium Thorn Ring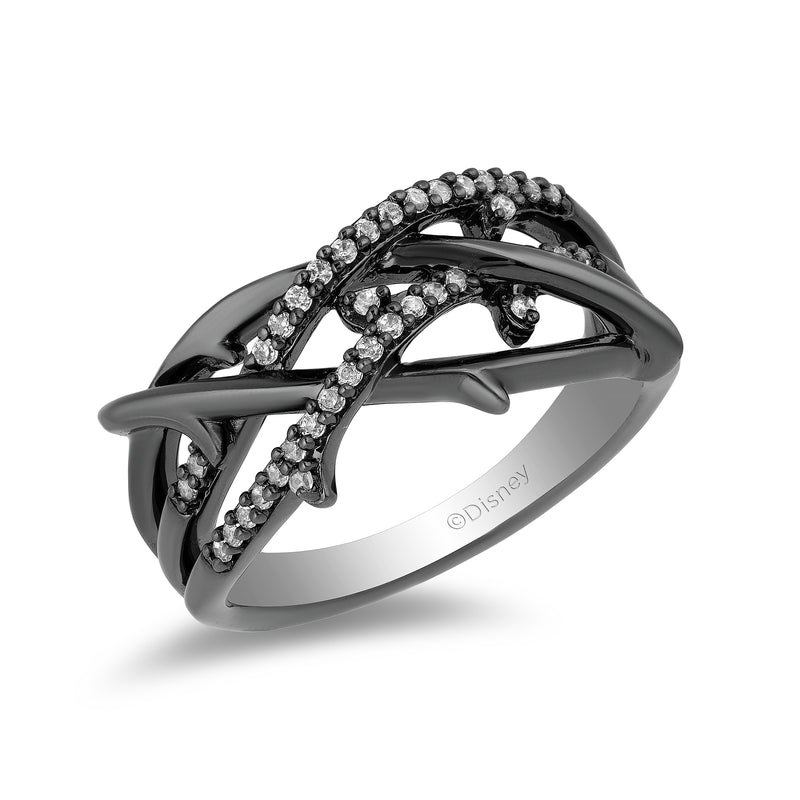 Ready to give an outfit a bold and edgy update is this Maleficent-inspired ring in black rhodium-plated sterling silver.  Twisted thorns adorned with white diamonds will encircle your finger and mark your look with a mysterious vibe while reminding you of your power to master yourself.
Free yourself from negativity through forgiveness (of others and yourself) and keep in mind the old adage, "what goes around comes around."
Ursula Black Pearl Ring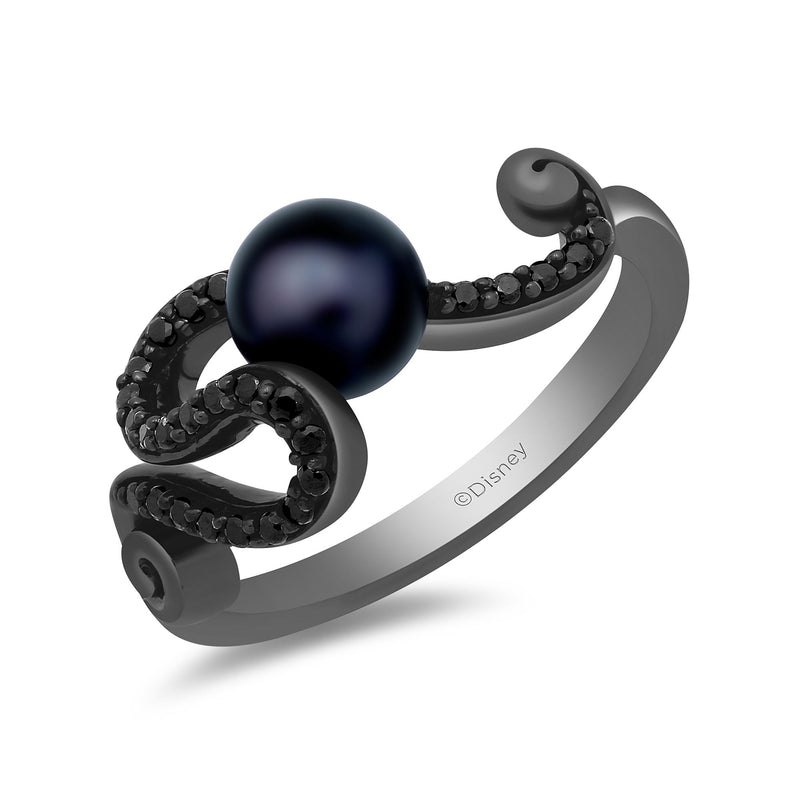 Channel sea-witch Ursula's flamboyant confidence with this ultra-gorgeous black pearl ring with black diamonds.  The sinister style of this tentacle-like sculpted ring is bound to bring Ursula's wicked glamour to any ensemble while encouraging you to display a style that's uniquely your own.
Cruella Bite Back Ring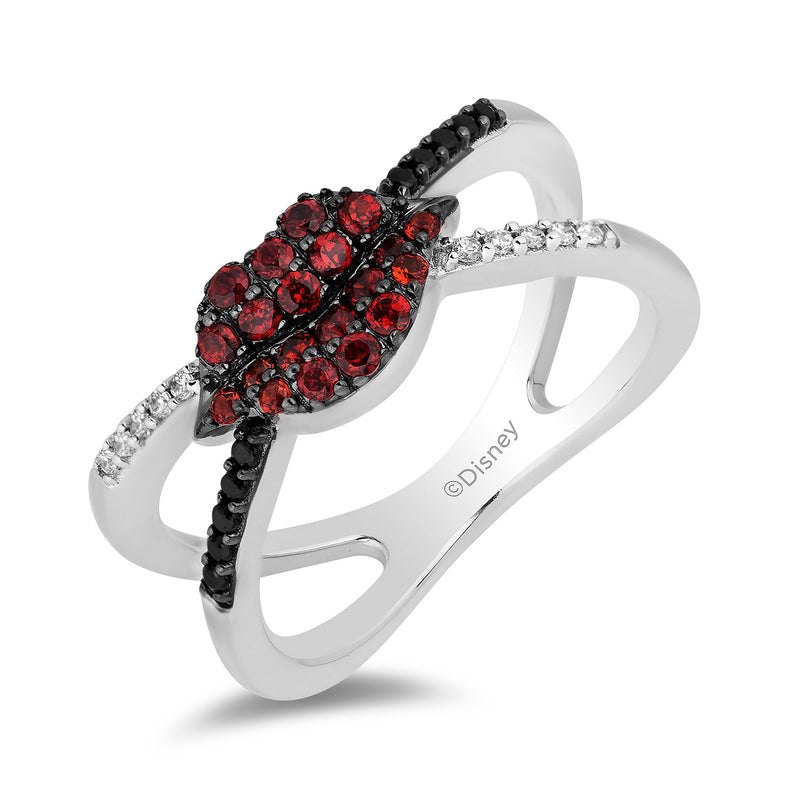 Cop Cruella's fashion-forward style with this bold and flashy diamond and garnet ring.  This piece features a wide twisted split shank topped with a sculpted lip adorned with red garnet gemstones held by black rhodium-plated prongs.  Completing the ring's edgy sensibility are black and white diamonds on the ring's shoulders.
Seeing this ring on your finger will make you remember Cruella's drive and determination.  Learn from Disney's fashionable go-big-or-go-home villain: shoot for the stars and never settle for less.
Jafar Cobra Ring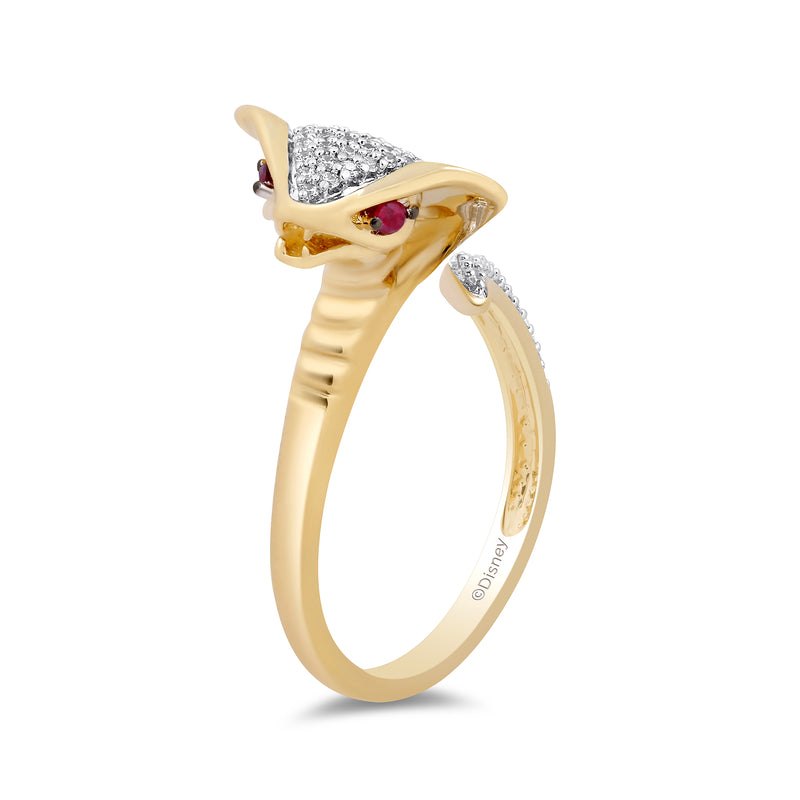 Turn heads with this yellow-gold sculpted cobra ring inspired by the wicked sorcerer and Royal Vizier of Agrabah.  This Jafar-inspired ring features a snake silhouette with red ruby eyes and pavé-set white diamonds on the head and tail.  Whether worn as part of a Halloween party outfit or as a statement ring to flaunt during your next cocktail party, this piece's captivating presence will leave everyone totally charmed.
And as the ring gathers oohs and aahs and injects personality into your style, it will also bring to your mind a lesson Jafar learned the hard way – seeking what's temporary won't satisfy you.  While it's good to be persistent in going after what we want, we must remember not to lose that sense of work-life balance.
You see, Disney's classic films gifted us with life lessons and style inspirations – both from princess heroines and villains alike.  And Enchanted Disney Fine Jewelry captured these fashion styles and symbolic lessons through creatively designed and meticulously crafted jewelry pieces.  The Disney Villains Jewelry Collection includes a variety of Maleficent rings, Ursula ne cklaces, Cruella necklaces, and Evil Queen rings.  Each piece looks daring, dark, and defiant, yet impressive, insightful, and inspiring.  Explore our wickedly whimsical collection of Disney Villains jewelry today and discover unique diamond jewelry pieces that will shine bright all year round.
Some consumers like the villains product because it is evil villain. Maybe add another sentence that follows up saying "or why the bad is so good…"
Similar to my comment on the previous page, I am not sure the deep meaning will be received well from our audience. At previous trade shows, I have spoken to fans of our Maleficent collection, who refused to acknowledge the live action representation of their favorite villain. They much preferred to view her as the powerful and sinister sorcerous that turns into a dragon. I do again appreciate the good undertone, but I think we should cater to a the villain is the villain audience as well.